The design principles behind the new construction are intentional and strengthen relationships by shaping the physical environment to best support and manifest the transformative power of relationships.
To explore these exciting new spaces, click on the red location markers to navigate the virtual tour below.
Front Entry
Our new entry and reception area will allow for the controlled flow of all visitors on campus, increasing the security and hospitality of our campus.
Boardroom
A permanent meeting room for important gatherings and board-level meetings with integrated technologies for seamless presentations addresses a longstanding need.
Student Union and Servery
The Student Union will offer a more inviting environment in which to eat, gather, and enjoy community.
The Servery allows for food to be prepared in-house and will partially replace the space currently referred to as the Commons.
IDEA Lab
The current Library will be reconfigured into upper and lower Idea Lab spaces. The move will allow students to engage in metalworking, welding, painting, and other design-related mediums. The new space will also provide enhanced opportunities for the robotics team, engineering programs, and student-driven research projects.
Video Studio
WAtv and our award-winning livestream program have experienced tremendous growth despite space limitations. The newly planned Video Studio will provide adequate space to allow every student the opportunity to gain valuable video, communications, and storytelling experience.
The studio will also create a centralized location for video production which will serve to preserve equipment and elevate and enhance the WAtv and livestream programs.
Pitch Room
This student-centric, flexible "pitch room," adjacent to the Business Center, is designed to allow students a real-world experience as they deliver high-level business-like "pitches" as a part of their classroom work.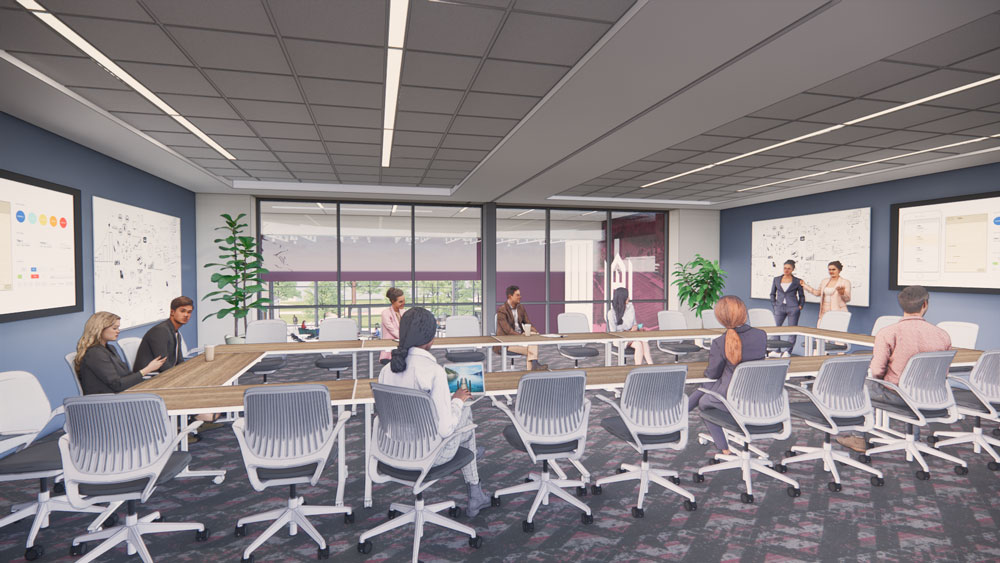 Flexible Spaces
The creation of increased flexible spaces is planned throughout, including an additional sitting area for students situated between the Atrium and the new Student Union.
Cross Plaza
The new plaza and the prominently displayed cross at the center of campus will visibly proclaim our faith and serve as the physical embodiment of our commitment to Christ-centered education.